We are now able to have in-person outside Sunday School for our children.  We will meet on the outside patio during the morning adult worship service starting at 9:00 am.  (This is a new start time, 1 hour earlier)  The COVID-19 state regulations for childcare will be followed.  Masks are required for children and adults.
Here are the schedules:
In-person Outside Sunday School:
Preschool and Grade School Classes are available
9:00 am – 10:00 am
Virtual Sunday School Program
9:00 am  – 9:10 am – Music with Nathan
9:10 am – 9:20 am Preschool with Ollie
9:20 am – 10:00 am am Grade School
If you would like to join the virtual program, please leave us a message at [email protected] and we will contact you with the link to the meeting.
In-person Sunday School  on  April 18, , 2021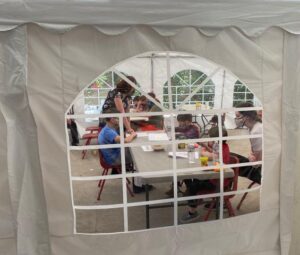 Virtual Sunday School, April 25, 2021